5 founding members, delicious coffee and a lot of inspirative idea! We have tried the Lean Coffee meeting structure :  It works:-)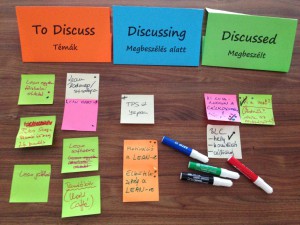 Tesztelve a Personal Kanban logikát és a sztenderd Lean Coffee  meeting felépítést megtartottuk az elsö  Budapest Lean Coffee megbeszélést!
Kiindulásként a Budapest Lean Coffee müködési kereteit egyeztettük, emelett  egyéb  szakmai kérdések/felvetések is megvitatásra kerültek.
A majd 2 óra kötetlen, jó hangulatú megbeszélés összegzése valahogy így  fogalmazható meg: szakmaiság – inspiratív gondolatok – önfejlesztés és tapasztalat megosztás… Folytatás januárban!