PDCA – the process of continuous improvement
Januári témánkat egy könyvélmény ihlette,  Andy Weir: The Martian című sci-fi regénye. A könyv szakmai szemmel a PDCA problémamegoldó gondolkodás "diadala" . Mert miről is szól a történet?  A főhős az elsők között érkezett a Marsra, de egy porvihar miatt egyedül  ragadt ott. Képtelen kommunikálni a Földdel, tudtukra adni, hogy él és segítségre van szüksége.  Kétségbeesés és önsajnálat helyett csak egyet tehet: harcol a túlélésért, az 1.400 nap múlva érkező mentőexpedícióig! Ahhoz hogy célját elérje,   felméri a jelen helyeztet  (milye van, meddig elég..) , majd lépésről lépésre megoldja a cél utjában álló akadályokat, koncentrálva a  másnap megérésére…  Miközben a túlélésért harcol, PDCA-k sorát hajtja végre, tiszta célokkal – alapos elemzéssel – apró lépésekkel és folyamatos visszacsatolással.  Amellett hogy minden vezető számára tanulságos és inspiráló olvasmány a napi gyakoriságú folyamatos fejlesztés megértésére –  rendkívül szórakoztató is.
A könyvismertetőt Pető Sándor tartotta,  de Mark Watney szorija után sem engedtük el a témát.  A beszélgetés során arra kerestük a választ, hogy a vállalati működésben hol és hogyan érhető tetten a PDCA logika, kinek milyen a tapasztalata és megélése a területen. Gyártáson kívül is sorakoztak a PDCA irányítási módszeren alapuló példák, kezde az élsporttól a start up és IT világából.
Az este hátralévő részében az év főbb témáit szedtük csokorba, témafelelőst és időpontot keresve hozzájuk. A parkolópályán még sorakozik pár ötlet "kivitelezőre" várva, ill. új témákat is behozhattok!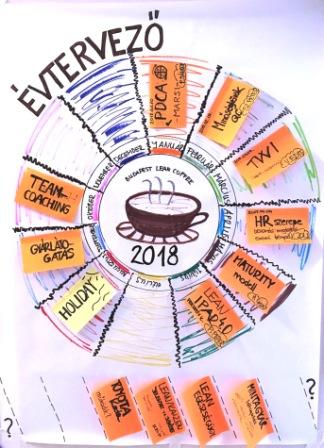 Februárban a Minőségkörök témával kezdünk –  aztán sorbaveszzük a többit is!
BLC Team