The lean knowledge -how to learn, how to teach?
Lean szakemberként időről időre oktatunk, képzéseket tartunk lean témában.  Szeretjük.  Szívesen és mindig nagy "rákészüléssel" tesszük.  Izgalmas megérteni, mire is van szükséges az Ügyfélnek, aztán ennek függvényében  kitalálni  milyen játékokkal, példákkal és feladatokkal fűszerezzük az oktatást.  A főpróba maga a  képzés,  ahol a csapatok dinamikáját és elakadásait figyelembe véve tudjuk alakítani a programot – lehető legtöbbet kihozva a napból. Ugyanakkor azt is látjuk, hogy 1-1 oktatási nappal nagy hatást elérni vagy szakértőket képezni nehéz dolog, csak pontszerű lendületet ad a szervezeteknél. Ezen okból vettük elő a témát és együtt gondolkodva végigmentünk egy gyakorlatközpontú lean képzési programon. Az általunk optimálisnak tartott képzésen alapvetően a lean szemlélet szerinti elköteleződést és vezetést erősítjük, az ehhez szükséges módszerek és eszközök tudatos, saját élményen és tapasztalaton való elsajátításával.  Nagyon jó volt együtt gondolkodni a csapattal, véleményt, tapasztalatot cserélni a tematika tartalmát, módszereit illetőn. Sok érdekes és értékes új gondolat került (ill. fog még felkerülni) az oktatási tematikát leképező (leannovation) roadmap-ra.  A programon még dolgozunk, de hamarosan bővebben is írunk róla. Köszönjük!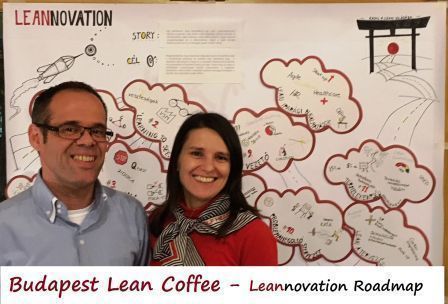 Az este másik fontos eseménye a 3. évforduló megünneplése volt. Stílusosan egy lean coffee tortával és pezsgővel:-)
Minden kedves tagunknak köszönjük az elmúlt éveket, hogy jöttetek és hoztátok a tapasztalatokat, jókedveteket!
Kellemes ünnepi készülődést és jó pihenést kívánunk, januárban találkozunk:-)