Industry 4.0 – and what about lean?
Under the strategy "Industry 4.0", we are in transition to the "fourth industrial revolution".  Cloud, internet of things, 3D printing, robotics, artificial intelligence and so on, are foreseen to revolutionize how we make things and deliver services today.  But where does this leave lean?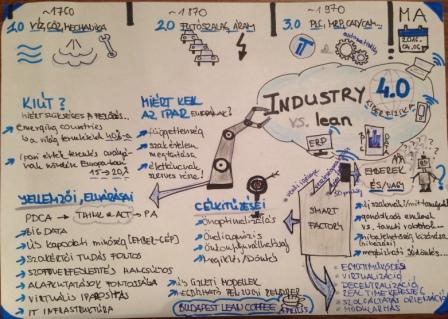 Egy nagyon jól felépített előadással Vajna István vezetette be a csapatot az Ipar 4.0 jövőbemutató stratégiájába. Robotok, Big Data, 3D printing, mesterséges inteligencia –  a negyedik ipari forradalom a dolgok intenetének kitejedt hálozatán alapszik , ahol a fejlett adatfeldolgozó, analitikai kapacitás megalkotja és a változó környezet igényei szerint folyamatosan alakítja a rendszert működtető kibereket. Az egyedi vevői igények gyors és gazdaságos gyárthatóságának igénye egybecseng a lean célkitűzésekkel…. De mi lesz a munkatársak szerepe a robotok világában? Mik lesznek a jövő szakmái, melyeket a 4.0 ipari forradalom megvalósítása fog generálni? Milyen szabályozó környezet szükséges és hogyan tudunk alkalmazkodni az új kihívásokhoz? Sok-sok nyitott kérdés maradt, de abban egyetértett a csapat, hogy a lean alapelvei és célkitűzései időtállóak: Többet gyártani kevesebből, vevői igény szerint- ma s holnap…..
Vajna István előadásának anyaga itt érhető el:  BLC – INDUSTRY 4. Vajna István 2016-04-06pdf
A  témaszavazásból a "Lean vezető" post-it került ki győztesen. Arra kerestük a választ, melyek azok a legmeghatározóbb jellemzők, kompetenciák melyekkel egy jó lean menedzsernek rendelkezni kell…az összefoglalóra listáztuk a legfontosabbakat:
 Köszönjük mindenki részvételt, május 4.-én is várunk egy kávéra:-)
BLC Team