The "soft"  side of lean management
A lean központi eleme a munkatársak fejlesztése és bevonása. A "hard" , eszközközpontú megközelítés mellett fontos,  hogy teret és figyelmet kapjon a TPS ház középpontjában is méltán hangsúlyos ember, a dolgozói képességek az azokat kiaknázni hivatott vezetők szerepe, szemlélete. Júliusi találkozónkon Márton Mónika (Legacy Kft) meghívott vendégünkkel erről az  izgalmas és mindenhol(kor) aktuális témáról beszélgettünk!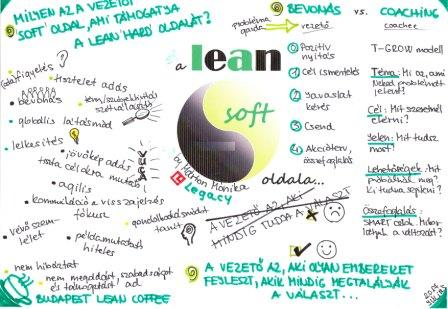 Vezetés- Bevonás -Coaching: Mónika ezen  3 területre fűzte fel a beszélgetést, melynek keretében a csapat első lépésként  összegyűjtötte a  lean szakember elvárható "soft" vezetői képességeit, kompetenciát. A listánk –  amit a jelenlevő vezetők, tanácsadók, szakemberek  összegyűjtöttek  – mind a gyártási szférában mind a lean egyéb alkalmazási területein érvényes.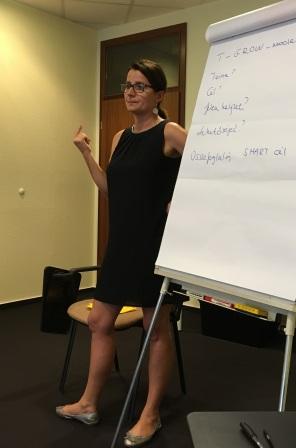 Mivel a témában eltérő ismerettanyaggal rendelkeztük, helyre tettük a fogalmi definicíókat a Bevonás és Coaching kapcsán – tisztáztuk, mit, mikor és milyen céllal javasolt alkalmazni, ill. beszélgettünk a lean és coaching kapcsolatáról is. Az este tanulságaként sok értékes és új gondolatot gyűjtöttünk és vittünk haza. A téma, a megközelítés sokunkat "megérintett" és új, izgalmas fejlődési lehetőséget vetített.
Mónika témája után maradt egy kevés időnk, a feldobott témák közül a  "Fluktuáció – Elköteleződés javítása"  nyerte a legtöbb szavazatot. Az alapkérdést a beszélgetés végére a következőképpen fogalmaztuk meg: Mi a reálisabb cél: a fluktuáció csökkentése vagy hogy vállalatunk  alkalmazkodjunk és gyorsan reagáljon a munkaerőpiaci helyzetre? Megoldásként, lehetőségként sok hasznos ötlet került a felszínre és az összefoglalóra –  próbáljátok a gyakorlatban, ha van működő "recept" osszátok meg a következő alkalmakkal.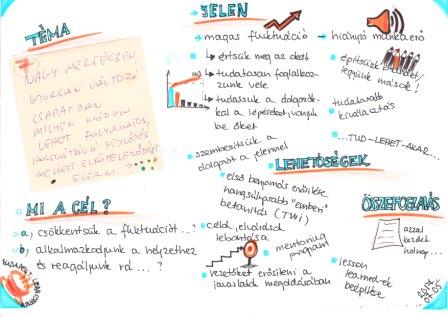 Ezúton is szép nyarat mindenkinek, augusztusban nyaralunk de szeptembertől újra minden hónap első szerdáján Budapest Lean Coffee!
BLC team