"Tell me the facts and I'll learn. Tell me the truth and I'll believe. But tell me a story and it will live in my heart forever." – the power of Storytelling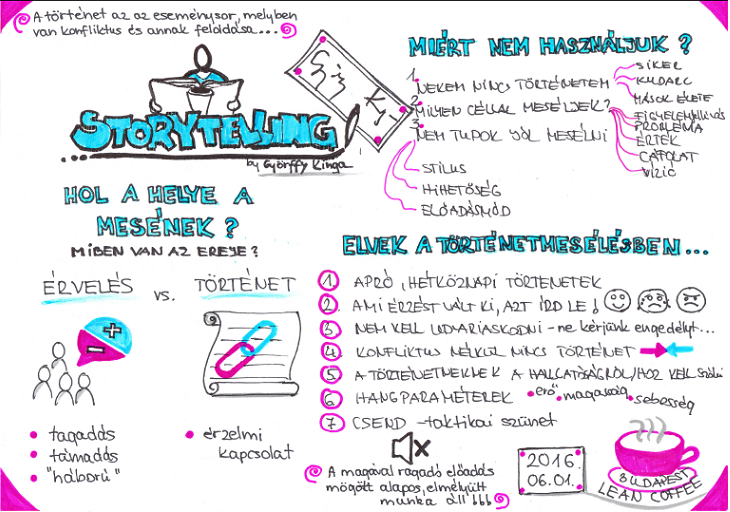 A téma hazai szakértőjeként Györffy Kingát köszönthettük júniusi találkozónkon. Kinga a meggyőző és magával ragadó előadás egy izgalmas eszközével, a történetmesélés technikájával és erejével ismertetette meg a csapatot.
A mindennapokban  vezetőként, tanácsadóként az a közös célunk, hogy gondolataink, mondanivalónk megragadjon és tettekre, változásra mozgósítsa a munkatársakat, a projektcsapatot. Az előadástechnika tudatos  fejlesztése a történetmeséléssel egy remek eszköznek ígérkezik rutinos és kevésbé tapasztalt  előadóként is –  Kinga élvezetes, színes és könnyed előadásából mindannyian sokat tanultunk és sok-sok új gondolatot indított el a  résztvevőkben.  Könyvéből dedikált példányokat tudhatunk magunkénak és kaptunk annyi bíztatást és tudást,  hogy már nem csupán jó, hanem magával ragadó előadókká szeretnénk válni:-)
"A történet az, ami kettőnk között a kapcsolatot létrehozza. Ami téged közelebb hoz hozzám."
Köszönjük szépen az előadást!!!
A Budapest Lean Coffee egy másik kiemelt témája volt a június 9-10 -re meghírdetett 5S Public program.  Az esemény azóta sikeresen lezajlott. A Konferenciáról és az Akciónapról is elérhetők a fotók, a  http://www.5spublic.hu/galeria vagy https://www.facebook.com/5spublic/?fref=ts  oldalakon. Folytatás jövőre, több helyszínnel és programmal!
Az este második felében egy Tokióban megrendezett TQM képzés tanulságait és  élményeit osztotta meg velünk Révész Gyula és György László  – akik olyan szerencsések lehettek, hogy a szakma egyik legelismertebb szakértőjétől, Noriaki Kano professzortól tanulhattak. A PDCA-ról, mint alapeszközről beszélgettünk hosszan, de természetesen sok-sok érdekes téma maradt még a következő alkalmakra is… Legközelebb július 6.-án találkozunk!
BLC Team