Lean in the supermarket – with the power of A3 thinking!
Szeptemberi találkozónkón Orosz Nagy Szilviát, az Auchan Magyarország senior manager-ét köszönthettük  körünkben, akinek a közreműködésével a hipermarket csepeli áruháza a vállalaton belül elsőként kezdte el alkalmazni a  lean gondolkodást . Szilvi egy nagyon lendületes és gyakorlati beszámolót tartott a csapatában elindult lean szemléletváltás eredményeiről és tapasztalatairól, nehézségekről  és sikerekről.
Papír és ceruza –  személyes megfigyelések,  gemba járás – bevonás, emberek fejlesztése. A válallatnál zajló problémamegoldási és tanulási folyamatoknak az A3 ad keretet és napi rutint.
A csatolt A3 prezentációnak nem csak vizuális összefoglalója zseniális, de a mögöttes munka és a tanulási folyamat is sem mindennapi. Gratulálunk Szilvinek és csapatának és örülönk, hogy megosztotta velünk tapasztalatait!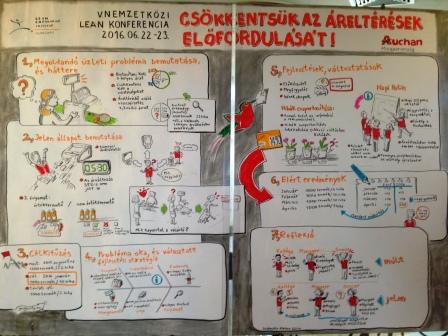 BLC Team