Lean Apps: what are the customer needs and what for data can support them?
 With the help of digital technology and mobile applications today's manufacturing professional can quickly access the latest production statistics, track inventory, check the downtimes at the touch of a finger.  Are the data relaible? Are the decisions  based on numbers -data-facts?
Ha kicsit körülnézünk az interneten, ma már lean témakörben is bőven akad elérhető applikáció, csak néhányat említve: Kaizen event organiser, 5S audit, 7waste audit, OEE követés…. Hogyan támogathatja egy applikáció a fejlesztésben tevékenykedő  szakemberek, munkatársak napi tevékenységeit?  Milyen előnyt adhat alkalmazásuk és mekkora a piaca?
A kérdés megválaszolásához Perecz Péter lean szakembert  kértük fel, aki a februári találkozón a saját fejlesztései példáin keresztül vezette be a csapatot a témába. Első lépésként közösen összeszedtük azokat a legfőbb okokat, melyek a szervezetek életében tipikus akadályai a fejlesztési tevékenységeknek, a sikeres problémamegoldásnak.  Vezetői hozzáállás, vállalati kultúra, tudáshiány / képzési problémák,  nem megfelelő problémaértés, hiányzó megfigyelések  és legfőkébb az  adatok hiányában történő nem megfelelő döntések kerültek fel a flipchart papírra.
Ezután egy beszédes, stílusos prezentáció következett a Haris Engineer applikációkról.   Az alkalmazás a megfelelő minőségű adatgyűjtésben és feldolgozásban, valamint az ezek kapcsán definiált feladatok menedzselésében, követésében ad segítséget. A több modulból álló csomag egyszerűen kezelhető felülettel, gyors adatrögzítési lehetőséggel,  könnyen értelmezhető grafikus kiértékelésekkel és jól követhető / priorizálható feladatkezelővel segíti a gyártóberendezésekkel kapcsolatos állásidők és egyéb veszteségek fejlesztését. A programról bővebb információ a http://www.haris-engineering.com/applicationsoldalon olvasható.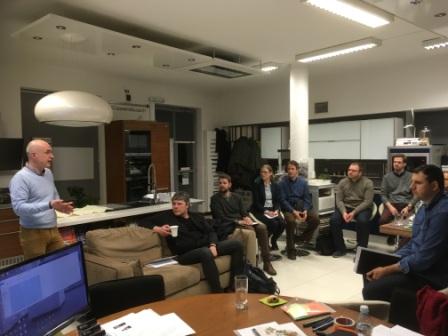 Miután Péter bemutatta a fejlesztés jelen állapotát, a csapat (mint potenciális jövőbeni felhasználó) összegyűjtötte a szoftverrel kapcsolatos egyéb "vevői igényeket", illetve azokat a pontokat vettük sorra, melyek piacképesebbé teszik a terméket és a mielőbbi bevezetést segítik.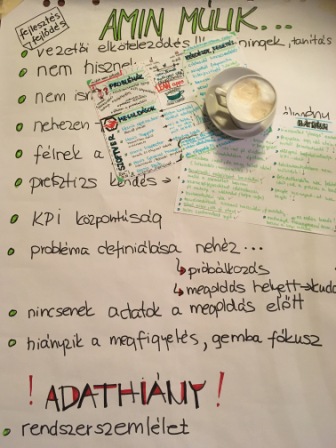 A téma kapcsán sok-sok mellékszálon elindult a beszélgetés  de összességében egy nagyon értékes és elgondolkodtató 3 órát töltöttünk együtt, melynek végén kicsit belülről is megértettük a fejlesztő nyitott kérdéseit, az applikációfejlesztés összetett feladatait. Talán nemcsak a téma, a helyszín is nagyon inspirálta a csapatot  – ezúton is köszönjük a Bono Design stúdiónak az isteni szendvicsket és finom kávét:-)
Köszönjük, hogy jöttetek március 8.-án új témákkal az Esernyősben találkozunk!
Edit & BLC Team